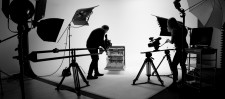 Miele, Haier, Smeg, and many more have invested in Eyekandy in 2016 to produce compelling digital content to drive their sales and educate instore and online shoppers.
London, UK, January 17, 2017 (Newswire.com) - ​​Eyekandy doesn't simply take a brief - we ensure that we get passionate, not only about the creative, but the brand itself. Sian Bailey from Miele commented, "Working with EyeKandy has always been a pleasure. They produce high-end work and are always passionate about each project. I would highly recommend them."
​John Davies, Brand Manager at Smeg UK said, "Eyekandy have worked hard to understand our design style and worked to produce an excellent new video asset designed for use by retailers and consumers alike. Their production team has produced and modeled a new CGI tour from start to finish; constantly communicating with us to refine the design style to create a valuable interactive asset which we're confident will help support sales and product training."
Eyekandy makes great videos AND can tell our brand partners how the content is consumed and how we could do better together.

Joe Golden, Creative Director at Eyekandy
Joe Golden, Creative Director Eyekandy noted, "The Eyekandy Creative team continue to understand and meet the challenges our brand partners bring to the table. Whether it is short product video campaigns, Virtual Reality, CGI, 3D rendering, full 4K/5K shooting, lifestyle demonstration, or simply 'out of the box' videos, we can scope, manage and deliver to tight deadlines and budgets. In addition, everything we produce for the brand is created with a view to quickly localise the master assets into many different languages to ensure maximum ROI for the brands investment."
Emilie Schuller, Digital Media Marketing Communications Manager at Haier Europe said, "We really enjoy the partnership we have with Eyekandy. As production lead on a number of Lifestyle Video projects Eyekandy have been impressive from the beginning. They proposed creative ideas and flexible solutions to support our content challenges and time constraints to deliver an improved production process for our localised videos for online syndication. They are a pleasure to work with; professional, responsive, and innovative. It is clear that Eyekandy prioritises our interests, and delivers to our requirements." ​
Eyekandy continues to invest in innovation and respond to clients ever changing needs. Finally, Joe Golden adds, "Creating rich content for products and services is a part of Eyekandy's heritage and seeing the business evolve in the past years so that we bring genuine science to our visual art is inspiring stuff. It is no longer enough to make great videos ... Eyekandy makes great videos AND we can tell our brand partners how the content is consumed and how we could do better together. I look forward to more interesting collaborations with our brand partners."
To see a detailed presentation of Eyekandy services and live examples go to www.eyekandy.com/services.
Source: Eyekandy Limited
Share: